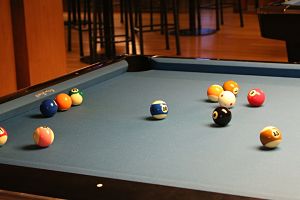 Moving a pool table can be compared with moving a piano. The only fact is that pool table can be disassembled. If you think that pool table can be easy moved then you are wrong. You see, an average pool table weighs around 1k pounds, it means that manpower is required. To deal with this uncomfortable situation try to ask nicely to your friends a favor. To move a pool table easily you should ask for a help to three or four friends. Once you have gathered the perfect people for this job you will need to disassemble the pool table as we talked about.
Get the right tools for this job. You will need to get staple puller, goggles and some flat head screwdriver. Use goggles to avoid any damages, they will protect your eyes.
Let's start with the staple puller. Staple puller is needed to remove the staples from pocket straps. To take out bolts under the rails, you will need to find the perfect pocket size. The average pool table has three rails. Slide them out one by one. They should be ready to pop-out immediately. After that, you will need to flip the pool table over, but be careful because side pockets can collapse from the weight impact. Your friends will be helpful in our next pool table moving step.
Right now the felt should come off. There are chances that they are either glued or stapled to the pool table, maybe both. If it's stapled then you should go around the pool table and remove each staple individually. On another hand, if the felt is glued, then you will have to be very careful when you decide to remove it because it can damage the pocket areas. Be gentle when you remove glued felts.
Let's head over to the next step. It's about the slate. It needs to be lifted off the frame of the pool table. The screws from the slate would be the best tool for this job. It's a drill with replaceable screwdriver heads. In some pool tables, they are hard to find. Screws can be covered with some plaster or beeswax. You will have to go gently with the drill. Otherwise, you can damage the screw head. Once you have removed all screws, it's ready for shipment.
Remember that the slate should contain a screw on each corner.
It's time to remove the legs from the pool table. You can do it easily. Just flip the frame upside and once you have removed them, take the slate to the moving van. Sometimes the rails can be placed on the top of the frame.
That's it. Make sure that each piece is wrapped; it's for protection purposes only. Remember, an average pool table weighs around 1k pounds. So if you don't have a right vehicle for this job, then rent one. Don't damage your own car.
Written by
Margarita Hakobyan
Find Movers in Your State