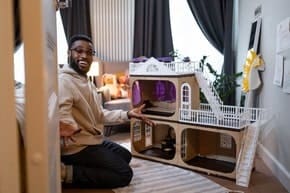 Whether you are moving, storing or remodeling your home, most likely you are going to need professional movers for your project. But have you thought about your oversized and large furniture that may not fit through your doorways or up a narrow stairwell? Some of your household furniture may require disassembly before moving them out.
Desks, beds, cabinets, wall units, and exercise equipment are usually items that require disassembly and then assembly in your new home. So another major concern is whether to take everything apart yourself or let your moving company take care of it all.
Moving companies can assemble and disassemble your furniture, but the question is whether you want them to provide an extra service. There are both advantages and disadvantages to using this service, depending on the type of move, whether it is a local or long-distance move. Here is some helpful information that can help you with your move.
Consider Disassembling Your Furniture Before Movers Arrive
Local moves are usually charged based on the hourly rate. The same crew works from start to finish (most local moves are completed in a day). In addition to moving services, you can also request additional services such as assembling and disassembling your furniture.
You may considerably lower the possibility of your furniture being damaged during the move by disassembling it before moving. Your pricey or sentimental furniture items may be damaged by tight corners, cramped passageways, and numerous door frames. It is preferable to disassemble the furniture ahead and move it in sections as opposed to as a whole.
Local movers can carefully and efficiently disassemble and assemble your furniture, but your move is going to take longer, which means you are going to end up paying more for your move. If you are capable of doing it yourself, this could be a chance to save some money on your local move. So the real question is whether this is something you want to do yourself or you are willing to pay extra for this service.
Basic charges for long-distance moves are calculated based on the mileage and weight of your shipment. The long-distance move can take up to 10 days, depending on the size of your move and the distance. Movers load your goods into their truck. But there is a possibility that another moving crew will be unloading your belongings at the destination city. This means the moving crew that disassembled your furniture will not be there to reassemble it. Do the new movers know what the piece looks like? Can they put it back together? Should you reassemble it yourself?
What Kinds Of Furniture Get Disassembled Most Often
Larger items of furniture like your bed frames, desk, baby cribs, cabinets, wall unit, dining room tables, bookshelves, or even gym equipment are more likely to require installation and disassembly. It is much simpler for the movers to take the things from your home and into the moving truck if the furniture is disassembled in advance. It also aids in truck space conservation.
There are other circumstances where disassembling furniture is just logical. Certain objects can be difficult to transport unless they are broken down into several pieces.
You should first determine whether relocating your old furniture will be worth the money and effort spent before determining whether to ask the movers for help disassembling your furniture. You might want to rethink taking your old furniture items with you if they are too worn out, require pricey repairs, or won't fit into the plan of your new home or your new interior design. Instead, sell them and utilize the proceeds to purchase fresh, contemporary furnishings for your new residence.
What Type Of Furniture Movers Will Not Disassemble
Even while moving companies provide services for disassembling and reassembling furniture, some items are exempt from this rule. The majority of movers will refrain from disassembling antiques, pool tables, hot tubs, pianos, grandfather clocks, and pieces of furniture that are joined by glue or nails. They won't take the chance because they lack the time and woodworking knowledge necessary to put such intricate pieces back together.
What Is Not Included in The Service
Anything fastened to the wall or ceiling with bolts or screws, such as curtain rods, shelves, and light fixtures will not be removed by moving companies. The customer is in charge of making sure they are taken out and packed before the movers show up.
Hot tubs, home gyms, garden sheds, swing sets, and other similar items must be disassembled before loading and reassembled at your new residence. The movers can suggest businesses that provide this kind of service in your area.
Will Movers Assemble Furniture After The Move
The usual practice is for movers to assemble furniture after taking it into your room. It is best to avoid assuming that your move will go according to plan. Everything will rely on the kind of service you requested. Did it only transport, or did it include full-service packing, relocation, and furniture assembly?
For your moving company to properly bill you and assign the appropriate personnel on moving day, let them know ahead of time that you require furniture disassembly and reassembly services.
Now you need to decide, whether you want to pay more to your movers or just do it yourself and save some money for another project in your new home. Keep in mind, whatever you do yourself is going to save you time and money.
Most of the moving labor providers at Movers Corp provide disassembly and assembly service. If you think you need the service, click on the movers' profile to see all provided moving services.
Find Local Moving Companies in Your Area