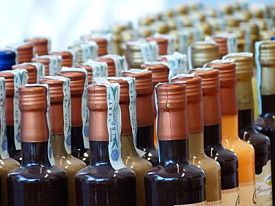 When planning to move, it is critical to keep in mind that packing and transporting liquor and other alcoholic beverages are quite challenging. It is difficult to pack and transport liquor because of the many legal restrictions to adhere to and the fragility of the bottles. The value of the beverage is also a critical factor to consider especially if it is a rare, expensive or vintage collection.
For those who plan to pack up their liquor safely and guarantee a successful move even with the presence of these items, there are a few tips that can work for them. Below are just a few of the many tips in properly packing the items for transit, determining if moving them especially across state lines is legally permitted, and finding out ways on preserving the quality and flavor of your valuable wines, regardless of how long it will take to complete the move.
Ask Your Chosen Company if they Transport Alcohol
Note that policies regarding the transportation of liquor and alcoholic beverages vary from one moving company to another. The policies will also be dependent upon the laws in your state. Find out if the authorities for Alcohol Beverage Control in your intended destination allow the moving of the beverages before packing them and relocating. If the policies of your moving company do not permit the transportation of liquor, then consider packing the bottles on your own and allow them to travel using your own vehicle.
It is also advisable to avoid packing and transporting opened liquor bottles in a moving van or your own vehicle. If your movers or moving labor helpers prohibit the moving of the liquor, then make sure to avoid hiding packed bottles in your boxes. Remember that if these ignite, you will hold the sole liability for damages. Your mover might also report your violation of their policies and state laws if they discover the hidden bottles.
Use the Right Boxes to Pack the Bottles
If the law and your hired mover permit the transportation of liquor, then make sure to use a sturdy specialty box in packing them. Make sure that the boxes offer utmost protection to the beverages. A wise tip is to choose cell boxes with installed cardboard. Another useful packing material is a styrofoam divider since it works in protecting the bottles from banging and shifting with each other while in transit.
If your wine collection is expensive, then make sure to pack the bottles upside down or on their sides. This will prevent the corks from getting wet. All boxes used to pack them should also be marked as fragile. To increase their level of protection, consider wrapping them up with a bubble wrap.
Prioritize Cushioning and Space
When packing and transporting liquor, two of the many things that you should prioritize are space and cushioning. Providing the beverages with enough cushioning and space will guarantee their safety. A wise tip in providing them with the right amount of cushion and space is to tape down loose bottle caps and corks.
Packing them side by side using a sturdy box is also helpful. If you decided to pack the liquor bottles using two layers, then make sure to separate the layers by adding extra cushioning. Store the packed items in a place inside the moving truck which is far from objects that might crush or fall into them.
Written by
Margarita Hakobyan