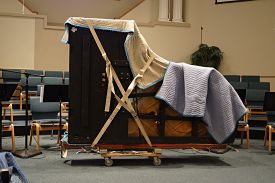 Most people who own pianos and have to move from one home to another would much rather sell it for a cheap price so as to avoid having to take it along with them and take on the unwanted stress of getting it moved. For local movers, relocating a piano can also be a stressful procedure.
Not only is the piano very large and heavy musical equipment but the fact that it cannot be dismantled or taken apart so that transporting it would be easier. Even some pianos are unusually shaped so that passing them through doors, corners or taking them down the stairs can incur a lot of stress.
There are several methods that have been successfully used in getting a piano from point A to point B. It first commences with a well-planned process that would require a lot of measuring. Areas to be measured would often include the doorways and stairways of which the piano has to be transported. Once the measurement is ascertained, then the movers would have to determine how the piano can actually get out of the old house without being damaged.
When moving a piano, experts would tell you that you should treat the move the way you would any other large household items such as a refrigerator or even a sofa. Most pianos have wheels which make it easy to move around, but if your particular piano does not have any, then furniture sliders should be used.
There is also a method to moving certain types of pianos that would make it easier to get out of the house and onto the truck. According to the rule of some movers, when it comes to a piano, if you are moving an upright piano it should be carried out. Grand pianos, on the other hand, are usually held in a horizontal position and loaded on the truck. The positioning of these pianos is to remain vertically and horizontally respectively even while on the truck so as not to destroy the keys and strings on the inside of the piano.
Most of the times when moving companies have to move a piano; they will find that just getting it out of the building is only half of their problem solved. The next step would be getting it on the truck which could be extremely tedious especially when one has to load it on the truck and unload it again. For this part of the job ramps and like equipment are usually employed to get the job done.
Ramps are also great for moving a piano down the stairs as well. As always when it comes to moving, manpower could never be discredited so the more "pairs of hands" that you have to assist you in the piano moving project, the faster it would be to get the piano on board.
However, if there is still some difficulty in getting the piano on the truck, then one may have to rent an equipment like a lifter or crane to complete the job.
Back to Moving Guide.
Written by
Margarita Hakobyan
Movers in popular cities.