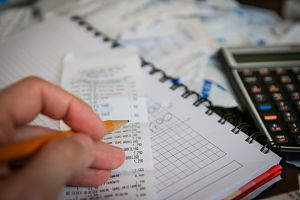 Moving your household can be an expensive process and often involves a lot of unexpected out of pocket expenses. However, if you are not prepared financially, it could cost you even more in the long-run. Certain expenses are obvious, like paying to professional movers, moving supplies, rental truck, but it is easy to forget about small costs that can overwhelm your budget. Moving budget can also help you to determine what the most efficient way is to get your goods from the old home to your new house in a timely manner. Therefore it's very important to set up a moving budget for your move so you can stay on track.
First of all, you need to decide on how you transport your goods: will you contract a moving company or rent a truck and do it yourself move?
If you are hiring a moving company, get moving quotes from several companies. This will give you a very good understanding of the actual moving costs and let you compare the moving services. Depending on your budget you may want the movers to pack your household too, which is an optional service. The mover can give you different options: they can provide a full packing service, partial packing, or just provide packing materials so you pack everything yourself. When getting the moving quote for your move, make sure to inquire about all of the available options with the mover.
Often the moving estimate includes fuel surcharges and labor. Ask the movers if there are extra charges for large and awkward items, such as piano, gun safe, pool table, appliances and etc., if these services apply. Moving companies will provide liability at no extra charge, but the standard 60 cents per pound per article rate is usually not enough to replace the item, especially if that item is small and valuable. An additional protection coverage could be another cost to include in the moving budget.
If it's a long-distance move, one of the most important factors to consider when budgeting your move is how much work you are willing to do. For example, if you are willing to pack and load and unload your belongings onto and off of the truck, there are movers who will handle the driving and will charge you less than a full-service moving company.
If you're moving yourself, compare quotes from different truck rental agencies, and don't forget to calculate the overall mileage and gas needed for your move. You may need to rent extra moving equipment such as dollies, moving pads, ropes and etc. Before you purchase insurance, contact your homeowner's insurance company to find out if you are covered under their policy. You may still require additional insurance. For packing, you will need moving boxes, bubble wrap, packaging paper, tapes, mattress covers, etc. Make sure you add all those expenses into your budget.
If you need to keep your goods at a storage facility, get quotes from several storage facilities. If you are using a moving company, they may include the storage cost into your quote.
If you hire professional movers for a cross-country move, then you need to get to your final destination on your own. Transportation will be a very important area of your budget. What is the easiest way for you: plane or automobile? If you are driving, in addition to mileage and gas, consider lodging and meals as well. If you're flying, add in taxi and airport fees.
Every step of your budget will include miscellaneous costs. Add another 5 percent to the subtotal to get your total moving cost. Now that you've created your budget, you may want to check out ways to save during your move and the real costs of moving.
Written by
Margarita Hakobyan