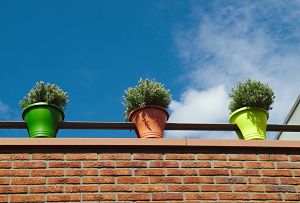 House plants make a home feel welcoming and warm. Plants may look perfectly at home, but they can suffer during a long move. When you plan your move, you have so much to think about and plants are one of the things that don't get proper care during the moving process. Most likely you want to take your houseplants with you to your new home, but not sure if they'll be able to make the journey, especially if it's a long trip. If you think they will not survive, then make sure you find a new home before you hit the road.
If you are moving from state to state, federal and state laws may be involved. Sometimes your plants aren't allowed to cross the state border line. California, Arizona, and Florida have the most restrictions on bringing plants into the state. Most states require transported plants to be grown indoors in sterilized potting soil. You can buy sterilized potting soil at local nurseries or garden centers. It would be best to contact your local U.S. Department of Agriculture office to check on specific regulations.
If you can't take your plants with you, consider taking cuttings. This is a good option for your favorite outdoor plants. Purchase some floral tubes, fill them with water, then cap them.
Check your plants and soil for bugs or any kind of disease your plant might have. You would want to take steps to rid your plants of these bugs or mildew before your move. You don't want them in your new home.
Leave your plants as the last things to pack, so that they don't get crushed too long in moving boxes and they'll be the ones of the first things unpacked at your new home.
You can manage the environment much better in your car than if they are just stuck in the back of a moving van. Pack them snugly in sturdy boxes, line them with plastic and place your plant inside. Make sure that the plastic is not tied together too tightly. If it's a long-distance move, make sure plants are moist. Plants can usually survive for 7-10 days without water.
Plants are considered perishable and the majority of moving companies will not even load plants on their trucks if it's a cross-country move. Plants are too fragile and are very likely to suffer from the move. Most indoor houseplants can not survive temperatures below 30 or higher than 100 degrees. Some professional movers, even if they move your plants, will not cover damage to plants. Ask your residential moving company if they have any restrictions.
The plants should be unpacked as soon as possible after arrival. Make sure to remove the plastic immediately, take them out of their boxes and give them some water.
Moving Services in Your State